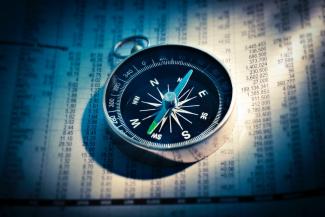 The Importance of a Long-Term Investment Approach
"Dow Jones Suffers One of Largest Losses Since 2008," read one of the headlines on a major network I was watching yesterday evening. When markets experience large swings, it seems the first outlet that tries to grab our attention are the major networks—and we know that advertising revenue drives what gets put on air so it is almost inevitable that we will see shocking headlines.
The truth is two-fold when it comes to market pullbacks: 1) we should focus not on the point-loss, but rather on the percentage-loss, and 2) we should refrain from making emotional decisions based on a short amount of time.
Over the past couple of days, the Dow Jones Industrial Average lost 1,031.61 and 879.44 respectively. These two-day losses represent the third and fourth largest daily point losses in the history of the index. Now for the good news: Monday's loss was a 3.56% pullback and Tuesday's loss was a 3.15% pullback. To put this into perspective, Monday's loss was the 254th largest single-day loss. Tuesday's loss would be even further down the list. But that isn't what will grab your attention and keep it, is it?
The second truth that I mentioned was having a long-term investment approach. Markets can be quite volatile over the short-term, but as time increases, so too does the volatility of returns. To illustrate this point for me, I've included a graphic from J.P. Morgan Asset Management. This chart represents returns from 1950 through the end of 2019. In a one year period, the annual total returns for stocks (as measured by the S&P 500 Shiller Composite) have varied between a gain of 47% and a loss of 39%. But as we increase the time horizon to a 5-year rolling period, that range is drastically reduced to returns between a gain of 28% and a loss of 3%. Finally, as we increase our time-horizon to a 20-year rolling period, the returns range from a gain of 17% to a gain of 6%. That there has never been a 20-year rolling period of returns that have been negative should give you confidence that having a long-term investment approach will pay off—even if the headlines tell us otherwise.
You may be asking yourself, "Am I invested for the long-term?" If you aren't sure, give us a call and ask to schedule a meeting with one of our advisors here at Investments & Financial Planning. We believe in having a plan in place before the market crashes—so that regardless of a good day in the Dow or a bad day in the Dow, you are still able to enjoy that extra trip you've been wanting to take your family on or you are able to buy that old car you've had your eye on for years. Just remember, you shouldn't lose sleep at night because of a headline you saw on the evening news—it may tell us some of the truth, but not the whole truth.